Careers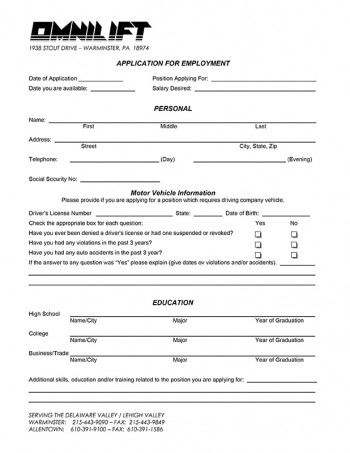 Perspective Employees,
To apply for any position at OMNILIFT, kindly click the link below to print our Employment Application, then fax the completed form to either the Warminster or Allentown facilities. Fax numbers are located at the bottom of application.
Thank you,
The Management Team


OPEN POSITIONS
Rental Coordinator
Responsibilities and Duties:
Rental equipment tracking
Trucking/logistics planning
Customer/vendor/service/shop communications
Invoicing
Ability to work in a fast-paced environment while multi-tasking to meet customer needs
Requirements/Skills:
Material handling experience beneficial
Excellent organizational and communication skills
Strong knowledge of EXCEL/OUTLOOK
Able to work in shop/service environment

Resumes and application: steve.krysko@omnilift.com.
Field Service Technician
Responsibilities and Duties:
Repairing Forklift equipment
Analyzing and diagnosing equipment problems and breakdowns
Safely operating power tools/hydraulic jacks
Planned Maintenance inspections and repairs
Comply with Safety and OSHA procedures
Requirements/Skills:
2+ years of proven forklift equipment repair
Proficient electronic, mechanical and hydraulic repair
Electrical troubleshooting
High school Diploma or GED equivalent
Must have own set of tools
Valid Drivers License/Clean Background and Drug Screen
Resumes and applications:jim.quigley@omnilift.com
Service Coordinator
Responsibilities and Duties:
Work order/Invoice processing
Customer service calls
Technician dispatch
Vehicle fleet management
Requirements/Skills:
Prior experience within a service industry very helpful
Strong organization and communication skills
Computer skills including Excel and Outlook proficiency
Ability to work in a fast-paced, sometimes stressful, environment
within a team of Service, Parts, Rental, and Sales personnel
Resumes and application: mike.kirkpatrick@omnilift.com
Warehouse/Pallet Rack Draftsman
Responsibilities and Duties:
Draft pallet rack and shelving layouts for warehouses in order to maximize physical storage
Work/communicate with manufacturers to assist in designing AutoCAD drawings
Prepare bills of material per the layouts and calculate pricing for material, freight and installations
Meet with customers to verify dimensions and coordinate projects to completion.
Requirements/Skills:
Excellent AutoCAD skills required
Material handling/logistics experience beneficial
Strong organization and communication skills

Resumes and applications: brian.boyle@omnilift.com